Tom McDermott sets his sights on the inaugural $50,000 NSW Triple Crown Series bonus
Tom McDermott sets his sights on the inaugural $50,000 NSW Triple Crown Series bonus
Tom McDermott returned to where his career began over the weekend, to win the NSW Country Showjumping Championships 2018, while riding Elegance De La Charmille. Tom now sits in the box seat chasing the NSW Triple Crown Series title for 2018, which includes an incredible bonus of $50,000—making his prize, if he wins through the Willinga Park Grand Final 2018, the largest of any Australian showjumper in 2018.
"It was great to be back on home soil, competing over the weekend," says Mr McDermott. "A credit to the organisers on a very successful show. There's still plenty of competition to be had, but I'm so pleased with how my team went this weekend."
While Tom started his career as a showjumper in Wagga Wagga, when his dad was training racehorses at the local racecourse, today he is regarded as one of Australia's top showjumpers. To win the $50,000 bonus, Tom must now take top prize at the NSW State Titles (10-14 October) and first at the Willinga Park Grand Final 2018 (13-16 December) while riding the 8-year-old mare, Elegance De La Charmille.
Should Tom not win all three senior titles, then the best performed will receive $5000, and the prize for the runner-up will be $2500. There's still plenty on offer for other riders in the next two events with bonus money paid for the leading Junior, Young Rider, Amateur, Mini Prix, Futurity combinations at Willinga Park in December. All categories are competing for $1000 for the best performed across all shows and $500 for the runner-up.
Other leading riders from the weekend include:
• Junior – Jess Rice Ward and Dusky Farm Cavalier
• Young Rider – Jamie Priestley and Amaretto MVNZ
• Amateur – Damien Churchill and Franklins Peace
• Mini Prix – Jenifer Wood and Harvey B
• Futurity – Stuart Jenkins and Blackall Park Penny Lane
This year, these three events are linked in a unique way, to elevate the national benchmark for Australian showjumping. The series has introduced new competitors, fuelled better performances,
and helped riders cultivate their horses for a series of premium events. Ultimately, it will raise the bar of Australia's showjumping talent.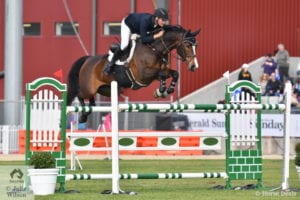 Newsletter Signup
Add your email address & subscribe to receive our newsletter