Willinga Park Welcomes up-and-coming Dressage Superstar
Our elite dressage team continues to grow with 5-year-old gelding
We're excited to announce the arrival of Quincy B, Australia's runner-up, 5-year-old, dressage champion for 2019. Originally from Europe, Quincy B was purchased from Lauren George but was sired in Europe. By world-renowned Quaterback and out of Die Zuckerpuppe, Quaterback comes from one of the most successful mare lines of modern day.
Trained by elite dressage competitor Jayden Brown, Quincy B is now continuing his dressage career with Willinga Park's Brett Parbery.
"I am so excited to be given the opportunity to continue training with yet another world-class horse," says Brett Parbery, of Willinga Park. "We are very impressed with the foundations that Jayden has established and have high hopes that Quincy B will be a contender at the Paris Olympics and beyond."
"Quincy B is another great horse that will help elevate Australian dressage on a world stage," says Terry Snow of Willinga Park. "We moved quickly to acquire him when it appeared that Quincy B could be lost to the Australian dressage community."
Quincy B will begin training shortly and we will keep his fans updated of his progress here on the website and our social pages.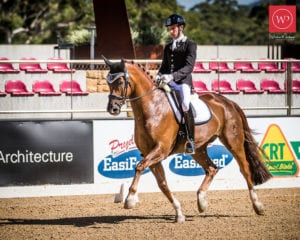 Newsletter Signup
Add your email address & subscribe to receive our newsletter