Mary Hanna and Calanta Set a New Australian Record at Willinga Park 
In front of an electric crowd in Willinga Park's covered arena, Mary Hanna and her 13-year-old KWPN mare Calanta made history last night, setting a new Australian Record for Grand Prix Freestyle. 
Mary, a veteran of five Olympics, gave a powerful performance, scoring 80.145% and breaking Kristy Oatley and Du Soleil's 2018 record of 79.330%. Mary's score is the first time an Australian has ever scored in the 80 percentile for Grand Prix Freestyle.
'I always dreamed I would score 80% but to be honest, I never thought it would happen. I waited long enough,' laughs the 65-year-old. 
Mary has had a dream run during Dressage by the Sea 2020, winning all six Grand Prix classes, bringing her one step closer to Tokyo and what could be her sixth Olympic games. 
Keeping the pressure on Mary throughout the entire competition has been the two New Zealand riders, Melissa Galloway and John Thompson, and their young horses. And they didn't let up last night. 26-year-old Melissa and her home-bred Windermere J'Obei W placed second on 75.655% 
'Melissa is set to become New Zealand's top rider,' notes Mary Hanna. 'She has a wonderful, modern style of riding. It's Dressage for the future.'
John Thompson and JHT Chemistry came in third with another strong performance and a score of 74.905% The high scores continued, with Alycia Targa and CP Dresden placing fourth on 74.3190% and Mary Warren on Mindarah Park Raphael placing fifth with 73.675% 
Last year's winner, Fiona Selby, put a beautiful test on the board scoring 70.840% however with a remarkably strong field, this score put her in 10th place. Such a high number of scores in the 70s is very encouraging for the sport of Dressage here in Australia. 
'It's heartening to see such outstanding results from both ends of the spectrum. We have a veteran superstar in Mary, alongside wonderful young riders such as Melissa Galloway. This perfectly supports our vision here at Willinga Park – to raise the profile of the sport and provide an international platform to bring out the best in our athletes,' says Terry Snow, Executive.  
Congratulations to Mary Hanna and Calanta on their spectacular win and their new Australian Grand Prix Freestyle record title.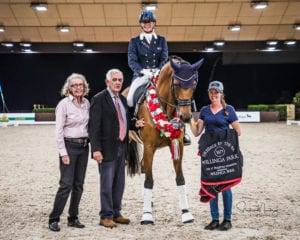 Newsletter Signup
Add your email address & subscribe to receive our newsletter