Team Willinga Park Win the Inaugural Australian Jumping Teams League
Congratulations Team Willinga Park on winning the first ever AJTL series
The Willinga Park Team, consisting of Katie Lawrie, Brooke Langbecker, Billy Raymont and Dave Cameron are the winners of the inaugural Australian Jumping Teams League 2019.
In a fourth and final round held at SIEC on Sunday 8th December, Team Willinga Park jumped sensationally to place first on the day, giving them the win for the overall series.
The team came into the final round of competition sitting in second place. The course at SIEC was challenging, with international course designer Leopoldo Palacios having designed what was arguably the most technical course of the series.
The three riders from Team Willinga Park that rode for the final round consisted of Katie Lawrie, Brooke Langbecker and Billy Raymont, with Dave Cameron as team manager.
It came down to the last rider, Billy Raymont, who had to jump clear to secure the win. In typical Billy fashion, he cantered around clean, helping his team take first place and enjoy a massive $84,000  prize pool. Over the series, the team took home $117,500, the biggest prize ever paid in Australian Showjumping.
After what has been a testing week at Willinga Park with bushfires ravaging the region, the win was welcome news for Terry Snow. 'It was exciting to be part of the first-ever Australian Jumping Teams League, and we're excited to see how this competition unfolds. I was very proud of how our team held themselves not only in the final competition but throughout the series. To win the last leg and the overall series is a real hoot, and we look forward to supporting these riders moving forward.
We want to take this opportunity to thank Chatham Park, Hamish Douglas and the entire team behind the scenes who put together the series. We look forward to being a part of it for 2020 and beyond.'
The win came with a hint of sadness as Katie Lawrie is soon to embark on a tour of Canada and therefore unable to ride for Willinga Park next year. The team are already in discussion with several riders, and we look forward to announcing the new team member soon.
Excitingly, a television series covering the 2019 AJTL series, titled All Clear, will be broadcast on Channel 7. This is the first time in Australian television history an elite teams showjumping competition will be broadcast on free-to-air TV. Keep an eye on your local guide for broadcast dates.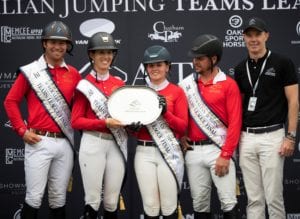 Photo credit: Jo Jennings / AJTL
Newsletter Signup
Add your email address & subscribe to receive our newsletter